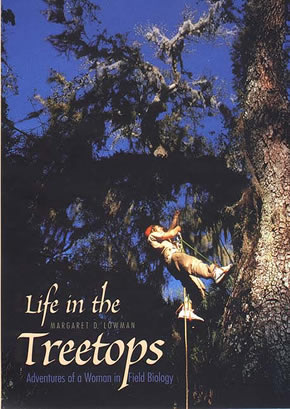 Life in the Treetops : Adventures of a Woman in Field Biology
by Margaret D. Lowman
Available at your local bookstore or order online: Hardcover or Paperback
Also available in Chinese.
A pioneering tree canopy scientist for more than twenty years, Margaret D. Lowman first gained access to the treetops with ropes and ladders, later a cherrypicker, and recently with such advanced methods as hot-air balloons and treetop walkways. In this absorbing book, Lowman describes her scientific studies in forest canopies around the world and her challenges as a field biologist, wife, and single parent.
Reviews:
"Lowman . . . gives a funny, unassuming and deeply idiosyncratic chronicle of her trials and triumphs as a field biologist of tree canopies and other ecosystems. . . . Her book admirably shows that a woman who is unwilling to accept impossibility can not only rock the cradle. If she can write her own script, she can carry her cradle into the treetops of the rainforest–and rock the tree."–Liesl Schillinger, New York Times Book Review (Full Review –
or HTML)
"[This book] is interwoven with wonderful stories of life teeming in rain forest tree tops. [Lowman's] struggle for self-realization and fulfillment is told with directness and humor, while its twin tale of the emerging science of canopy biology . . . is compelling for anyone with an interest in natural history."–Georgia Tasker, Miami Herald
"Life in the Treetops reflects many of the difficulties faced by women scientists in all fields. Margaret Lowman, a field biologist specializing in forest-canopy research, shows how dealing with the emotional challenges is as tough as or tougher than dangling from a precarious perch counting beetles or facing down a deadly sea snake. This chronicle of her adventures (and misadventures) among the treetops encourages readers to understand both the science and the scientist. One can't help but sympathize with Lowman as she struggles to be a good researcher and a traditional rural housewife at the same time, and fails. Luckily, her kids and parents always remain supportive, taking care of the house during her long absences and accompanying her to faraway research stations when possible. Lowman studies small things–leaves and insects, mostly–and getting to them can be tricky. She chronicles the history of forest-canopy research techniques (which have grown apace with her career), starting with simple climbing gear and ending with treetop walkways and giant construction cranes. Life in the Treetops is an engaging look at one woman's struggle to find balance, whether she's high up in a tree or on the ground with her fellow humans." –Therese Littleton, Amazon.com