I'm happy to be celebrating Earth Day with some exciting news: the development of a new logo, brand, and completely refreshed look for my website, canopymeg.com.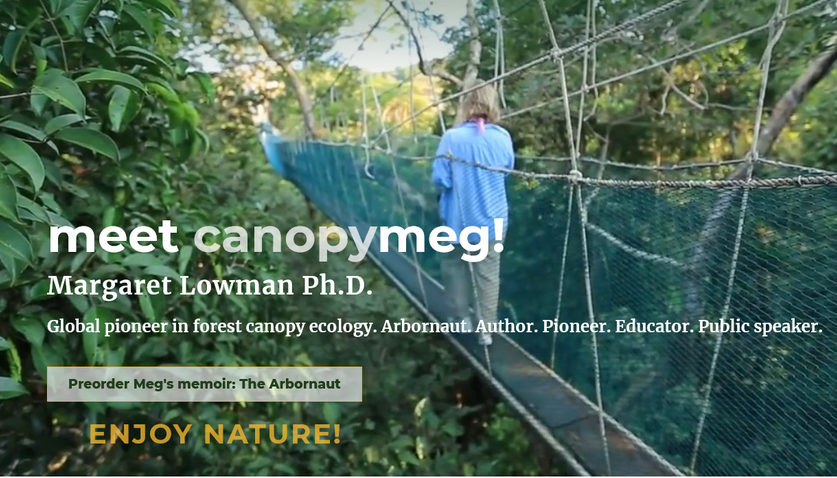 The new branding wouldn't have been possible without the leadership of my fellow Williams College alum and friend Jim Follett — who curated the design and vision of the site, led the build-out, and very generously funded the project.
The new look has its foundation in a gang of wonderful Williams College classmates, including Deborah Heineman, who came with me on an expedition to the Amazon a few years ago. The group was inspired by their travels & wanted to support the global mission to save rainforests in critical hotspots. They formed a "kitchen cabinet" to brainstorm ideas and the new logo and website is just the first of their brilliant ideas out of the gate.
Jim worked with a team of three on the rebranding project: brand/logo designer Cynthia DiGiacomo, David Martin, (TREE's longtime website/IT guru), and MC Coolidge (my go-to-gal for writing, social media, & publicity).
I hope you'll make like a spider and crawl all through this website! There are plenty of spots to connect on social media, sign up for my newsletter, pre-order my new memoir The Arbornaut, and learn about — and join! — the CanopyMeg mission to explore, research, and conserve global forests; mentor the next generation, especially women and minorities, in sustainability and forest stewardship; and educate diverse audiences through storytelling!